BRANCHING OUT – ALUMNI NEWSLETTER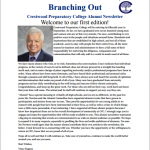 I am very proud to present to our community our first alumni newsletter, appropriately dubbed "Branching Out".
Future additions will only be distributed to alumni, although options will be made available to others. It is an excellent publication,and represents an important part of the school mandate. A big thank you to Ms. Lisa Newton and all the contributors to this wonderful, and historic, publication.
Best wishes to all:
Vince Pagano
Natasha Bangert, Class of 2009:
We want to congratulate Natasha, who graduated in 2009. She currently attends the Ringling College of Art and Design in Sarasota, Florida. While she attended Crestwood, Natasha was involved in all aspects of school life, including athletics, academics, artistic pursuits and clubs.
She is the winner of this year's Sarasota Film Festival. Each year, the festival showcases over 150 films. To promote the festival, the SFF invited students at Ringling College to create a short video trailer to open each movie at the festival. Out of 40 contestants, 13 finalists were selected. As one of the finalist, her work was posted on the SFF website forthe public to vote for their favorite.
Natasha and her partner, Minna Cheong won this year's competition! As a result, their video opened and closed the festival. Congratulations Natasha on a job well done!
Paparazzi from Sarasota Film Festival on Vimeo.
Paparazzi from Sarasota Film Festival on Vimeo.
Megan Rudson, Class of 2009
I have just finished my second year at the University of King's College in Halifax, Nova Scotia. I am majoring in journalism. Next year, I will be going to the University of Canberra in Australia on exchange for my second semester. I went to Crestwood School from grades 1-12. I also worked at Crestwood Valley Day Camp.
My senior year was one of my favorites at the College. I loved all my teachers. Specifically, Mr. Jull and Mr. Masters were huge influences to my acceptance to my current program.
Here is one of my favorite photos. It's of a number of students from my grade with Mr. Pagano at the Athletic Banquet in 2009.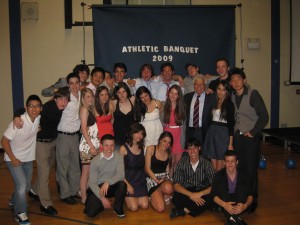 Rebecca Levin, Classof 2008
I have recently finished my third year at the University of Western Ontario. I am an honors student of the Media and Information Technoculture(MIT) program. My love for English Literature, writing, and World Historyflourished during my time at Crestwood, and my current program allows me to study these subject areas.
I have recently become the Internal Media Chair of UWO's Hillel Club, and volunteer as a contributing author for the Western Gazette, a student-run newspaper. I am also launching Hillel's first magazine with Hillel's media specialist. As well, I am the co-head of the Swim Program at Camp White Pine, a summer sleepover camp in Halliburton Ontario. I would no thave a significant role in these clubs and institutions if it were not for the Crestwood staff, as they encouraged me to expand my horizons outside of schooling.
I would especially like to thank Mr. and Mrs. Santomero, Mr.Jull, and Mr. Masters for encouraging me to work my hardest, and push myself to achieve goals that I never thought I could. Thank you!
We want to hear from you! Please tell us what you have been doing since you graduated from Crestwood Preparatory College. Let us know of any recent happenings in your life: achievements, careers, weddings, births or any other interesting stories that we can share on our website.
Send us your stories and photos to alumni@crestwood.on.ca